A.Santosh Kumari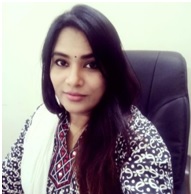 A.Santosh Kumari
MBA, PGDT&D, (Ph.D)
Assistant Professor
Ms. A. Santosh Kumari is currently an Assistant Professor of School of Management Studies, Jawaharlal Nehru Technological University Hyderabad, Telangana, India. She has served the University in the capacity of Officer In-Charge, Nodal Officer and co-ordinator of several Administrative Activities and Academic courses. She is been an NSS Officer for the School of Management Studies since 2017.
She has been the mentor and enjoys motivating students to perform better both at curricular and extra- curricular front. Her interactive teaching methodologies includes Business Games, Case method, GD, Poster Presentation, Role-play simulation, Z to A approach, Blended Learning, Group Assignments & Presentations has been the best part of her pedagogy.
She has worked as the co-ordinator of Directorate of Academic & Planning (DAP), JNTUH during 2014- 2016, she served as the Member in the several state /Central bodies/Committees. co-ordinator of The
National Assessment and Accreditation Council (NAAC)- JNTUH during 2014- 2016, co-ordinator & Nodal officer for All India Survey on Higher Education (AISHE) MHRD-Govt of India during 2014-2016, Served as IQAC co-ordinator of JNTUH during (2014-2016). As Member & Nodal Officer of Rashtriya Uchchatar Shiksha Abhiyan (RUSA) MHRD -Govt of India, she represented the University and contributed in day to day meetings and live interactive Video Conferences organized by TSCHE-AISHE,MHRD.
Ms. A Santosh Kumari has been the co-ordinator for the several academic courses held in School of Management Studies (SMS) and School of Continuing Distance Education (SCDE) of JNTUH. She worked as co-ordinator for joint MBA Program of Central Michigan University (CMU), USA and School of Management Studies, JNTUH, co-ordinator for the Contact Class Course-CCC MBA SCDE-JNTUH during (2009-2014), co-ordinator-PG Diploma in Logistics and supply chain management SCDE-JNTUH during 2011-2014, co-ordinator for the Foreign Students (FS)MBA during (2009-2011), co-ordinator of Part Time Post Graduate (PTPG)MBA programme during2003-2006,
Ms. A. Santosh Kumari has, authored/Published/Presented nearly three Dozen of Research Papers in various Journals/Conferences of National and International repute such as Elsevier, The Chartered Accountant, The Management Accountant, Global Journal of Finance and Management, The University News and so on. She has authored two books titled Performance management and Soft skills & Personality Development Training. She is the Organizational Secretary & Chief Editor of the Elsevier proceedings of an International conference
She shows great zeal to organize Seminars/ /Executive Development and Training programmes in association with industry. She has organized two International Conferences, two National conferences, eight workshops and two Refresher Course, and three FDPs. She has delivered more than 20 Keynote speeches and invited lectures on emerging business trends and contemporary management Practices. She has Chaired 12 Sessions at the International/ National Conferences/ Techno-Management Fest Pan India.
She is working as NSS Officer for the School of Management Studies since 2017 to till date. Chaired as Judge for the University Level NSS Youth Festival for NSS Volunteers on 3 rd Feb, 2018, Organized an Awareness camp on Women rights and Protection in Collaboration with SHE TEAMS, Telangana (as part of women protection and rights),Organized Blood Donation Camp in collaboration with NSS, JNTUH with University in December during years 2015,2017 respectively, Participated as the delegate of the National Council of Rural Institutes (NCRI), and Ministry of Human Resource Development (MHRD), Government of India in collaboration with NSS Cell, JNTUH programme on " Rural Immersion Camp" on 11th -12th of November, 2017, she actively Coordinated with the University NSS Cell the "Haritha- Haram" of Environment Protection and Tree Plantation Camp of JNTUH ( As part of Environment Democracy)
She is a Member of Governing bodies and Academic Councils for number of colleges. Member of Purchase Committee in DAP-JNTUH during 2014-2016. Editorial Board member of Journal of Finance, Member on boards of Advisory committees of national/international conferences of colleges, She served as a Sectoral Officer appointed by the State Election Commission in 2018, she has also served as Route Officer for TS ECET-2017, TSECET-2016.
She worked as an officer In-Charge Examinations for School of Management Studies during 2011 to 2014. As exams in-Charge she was actively involved in conduct of examinations and Evaluation of more than seven courses, held by School of management studies andSCDE.
As part of Students/Staff Related Cultural Fest, She was the Coordinator, Vrudhi – Two Day International Management and Cultural Fest in School of Management Studies, JNTUH in 2014 and 2017. Coordinated the Cultural Festival of AFRICAN Students of JNTUH Organized at F-Club, Hyderabad, in November 2017. Served as Executive Member of Women association of JNTUH, Executive Member of Teachers' Association, JNTUH in organizing
She has done Radio talks/ National television live telecast. Her lectures on contemporary Management Practices have been live telecasted on the Doordarshan National TV, and Saptagiri State TV, Organized by Ambedhkar Open University,Hyderabad.
She has taught more than 20 courses including International HRM, Strategic HRM, Learning & Development, Performance Management, Compensation and Reward Management, Change Management & Leadership, Management of Industrial Relations, Entrepreneurship, Organization Behaviour, Management fundamentals, Global Business Environment, Business Environment, Business Law & Regulation, Management Information System, Enterprise Resource Planning, e-Business, Decision Support Systems, Data Warehousing &Mining, DBMS, Best Business Practices, She is the trained faculty on ERP platform for Supply Chain Management & Retailing Programme on the CAPS-Logistics software.
She also coordinated industrial visits organized for the students by the school several times. The team led by her was adjudged as the Winner Team among the various business schools from all over India, for the best Business Plan for Vision-2020 at Leadership Conference-2007 organized by Project Management International at Infosys,Hyderabad.
Contact :

A.Santosh Kumari
MBA, PGDT&D, (Ph.D)
Assistant Professor
Email: santoshi.a@jntuh.ac.in
Phone: 0
Mobile:0