Ms. A. Santosh Kumari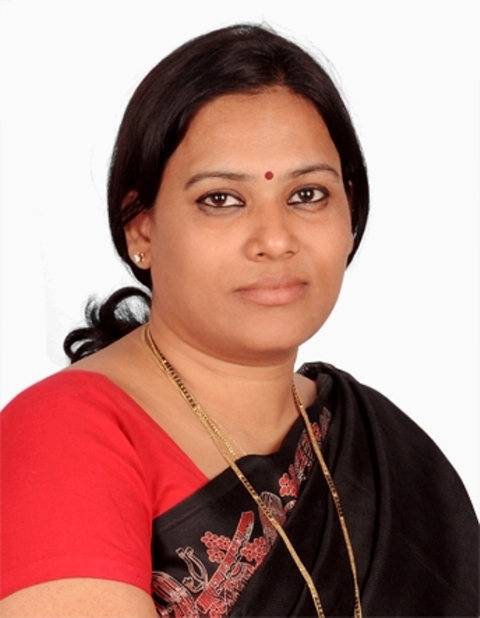 Ms. A. Santosh Kumari
MBA(Ph.D)
Assistant Professor
Mrs.Santhosh Kumari joined as Assistant Professor in School of Management Studies, JNTU in 2000. She has done her graduation and Post-graduation in Management from OsmaniaUniversity. Other than teaching Management subjects, her areas of interest are Training on soft skills, and Research. She has published eleven research papers in various journals of national and international repute. She is actively involved in Interactive individual based teaching-learning process, as a part of this, she has been presenting series of lectures on contemporary management issues, on Doordarshan TV channel and other various educational channels.
Mrs.Santhosh Kumari has been the mentor and enjoys motivating students to perform better both at curricular and extra-curricular front. The team led by her was adjudged as the Winner Team among the various business schools from all over India, for the best Business Plan for Vision-2020 at Leadership Conference-2007 organized by Project Management International at Infosys, Hyderabad.
She shows great zeal to organize Seminars/ /Executive Development and Training programmes in association with industry. She organizes Expert lectures from industry and institutions of national and international repute on emerging business trends and contemporary management Practices.
She has organized five Workshops and training programmes on Contemporary Management Practices. She was the Co-convener of the National Seminar on Management of Services in a Competitive Market Environment during 2004. She organizes from time-to-time Workshops on Soft Skills for the practicing executives and Management students. She is the trained faculty on ERP platform for Supply Chain Management & Retailing Programme on the CAPS-Logistics software.
Currently she is doing her doctoral research in Finance and working on research papers.
Contact :

Ms. A. Santosh Kumari
MBA(Ph.D)
Assistant Professor
Email: santhoshkumari@gmail.com
Phone: 9866518569
Mobile:9866518569